A Ticket Around the World (Hardcover)
Before placing an order, please note:
You'll receive a confirmation email once your order is complete and ready for pickup.

If you place a pre-order in the same order as currently available titles, an additional shipping fee will be added to your order.

Women & Children First is not responsible for lost or stolen packages.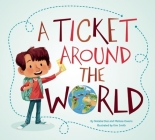 Description
---
Take a tour of 13 countries in this introduction to cultures around the world, an Amazon.com Teachers' Pick for ages 5 to 8 Join a young boy as he hops around the globe, visiting friends in 13 different countries spanning all six populated continents. Along the way, he introduces us to each friend's environment and customs, and shares interesting facts about each country's culture, language, food, geography, wildlife, landmarks and more. Each country has a dedicated spread with a small map that shows geography and landmarks, letting readers imagine they are traveling, too. The format makes it easy to spot similarities and differences between countries. This informational picture book brings engaging nonfiction content to younger readers by showing them how other children just like them live around the world. Playful, realistic illustrations done with stylized realism lend warmth and whimsy to the book, making each locale feel welcoming. A Ticket Around the World will leave readers feeling like they've toured the globe without ever having left home. Countries included:
Costa Rica
India
Morocco
Greece
Canada
Brazil
France
Botswana
China
Philippines
Australia
United States
Jordan

About the Author
---
Natalia Diaz and Melissa Owens are, respectively, the former acting editor and current editor of OWL magazine. This is their first book. Natalia lives in Markham, Ontario, while Melissa lives in Toronto, Ontario. Kim Smith was born and raised in Calgary, Alberta, and lives there to this day. She graduated from the Alberta College of Art and Design in 2008. Her clients include Random House, Wax Advertising, and OWL and Chickadee magazines. This is her third published book.