Maud Lewis: Paintings for Sale (Hardcover)
COVID-19 Notification
PLEASE READ BEFORE PLACING AN ORDER:
Thank you for your overwhelming support! We are 48 hours behind processing online orders.
As COVID-19 cases surge across the country, we have decided to close our doors for in-store browsing for three weeks beginning on Saturday, November 14.

During these three weeks, we will offer priority shipping to anywhere in the U.S. as well as curbside pickup in the parking lot behind our store from 11 a.m. to 5 p.m. seven days a week.

Do NOT come to the store until you get a confirmation email that your order is complete and ready for pickup!
OUR ONLINE STORE WILL BE CLOSED ON THURSDAY, NOVEMBER 26 TO GIVE OUR STAFF A MUCH-DESERVED BREAK!

Women & Children First is not responsible for lost or stolen packages.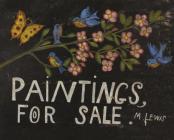 Description
---
From black cats to iconic snowscapes, Maud Lewis paints our waking dreams.
One of Canada's most beloved folk artists, Maud Lewis was famous in her lifetime for her brightly coloured and endearing paintings of rural Nova Scotia. Working from her tiny, road-side house in Marshalltown, she produced hundreds of small works that captured aspects of rapidly changing country life. Until now, the story of her difficult life has dominated the discussion of her art: her triumph over her physical disabilities and poverty, the harsh treatment she received at the hands of her family, and her alliance by chance with her husband Everett Lewis, who enabled her successful painting career over many decades.
This book, accompanied by an exhibition at the McMichael Canadian Art Collection, will examine the aesthetic achievements of Maud Lewis's paintings -- her serial repetition of images and motifs and the dizzying variety that she brought to the problems of picture making. From her black cats and kittens, to her cart horses and oxen hauling logs, to her quayside scenes of ships in port and the Maritime landscape in all seasons, Maud Lewis made paintings that still delight in their optimism and buoyant vitality.
Featuring a comprehensive selection of paintings drawn from leading Maud Lewis collectors in Nova Scotia, Maud Lewis: Paintings for Sale offers a unique opportunity to experience the range and depth of her work.