New Yorkers (Hardcover)
Before placing an order, please note:
You'll receive a confirmation email once your order is complete and ready for pickup.

If you place a pre-order in the same order as currently available titles, an additional shipping fee will be added to your order.

Women & Children First is not responsible for lost or stolen packages.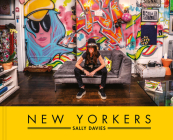 Description
---
New Yorkers presents more than 70 intimate portraits of people in their apartments and studios—captured in unique style by renowned New York street photographer Sally Davies—along with their testimonies and tales, and their illuminating observations on what it means to be a New Yorker. Considering the origins and ambitions of its subjects, it captures an intoxicating glimpse of New York's alternative scene before its actors are washed away on a wave of gentrification. A cast of drag artists, store owners, doctors, dog walkers, psychics, cab drivers, writers, artists, tattoo artists, gallery owners, photographers, film producers, designers, dancers, and musicians (including such legendary New Yorkers as Laurie Anderson, Danny Fields, and William Ivey Long) reveal the diversity, eccentricity, creativity, and humanity at the heart of this iconic city.
About the Author
---
Sally Davies is a street photographer whose works are in the Museum of the City of New York and the NYC 9/11 Memorial Museum. She is the author of the acclaimed McDonalds Happy Meal project (1.5 million online hits) and her archive is part of the Downtown Collection of Fales Library at NYU. She took Allen Ginsberg's old apartment when she moved from Canada to New York in 1983, and she still lives in the East Village with her dog Bun.
Praise For…
---
"The book is an important contribution to the photographic arts and also to the annals of New York history." —Michael Ernest Sweet, F-Stop Magazine

"New Yorkers captures the last, perhaps final generation of oddball, bohemian New Yorkers in their abodes." —Please Kill Me

"New Yorkers is a visual read, to be sure, but it also contains a good deal of text on the subjects and their lives. In this way, the book is an ideal gift for the photography lover or the avid reader of the biographies in your life. Buy a copy, you can thank me later." - Fstoppers Magazine

"This timely book of environmental portraiture will likely fill you with nostalgia, and perhaps a touch of envy. NEW YOKERS is a voyeur's dream and an anthropological masterclass all rolled in to one compelling photobook… Considering that the photographs were made in the months just prior to the pandemic shutdown that was 2020, Davies may have inadvertently earned an award for "most prescient photographer." —PhotoBook Journal

"Diversity, eccentricity and humanity are all found in abundance, and I loved the stories so much that it was an obvious choice for inclusion in my selection. Regardless of whether or not you've been to New York yourself, there's something to enjoy here." —Amateur Photographer

"Looking for an intriguing inside story of big city life? The fascinating 'New Yorkers' offers all that, and more." —Niall Hampton, Digital Camera World