The Art of Mad Max: Fury Road (Hardcover)
Before placing an order, please note:
You'll receive a confirmation email once your order is complete and ready for pickup.

If you place a pre-order in the same order as currently available titles, an additional shipping fee will be added to your order.

Women & Children First is not responsible for lost or stolen packages.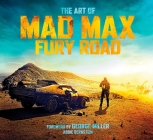 Description
---
Max Rockatansky returns. Haunted by his turbulent past, the wandering Road Warrior becomes swept up with a group fleeing across the Wasteland in a War Rig driven by an elite Imperator, Furiosa. Seeking escape from the tyranny of Immortan Joe, what follows is a high-octane Road War - and a chance for redemption.
 
The Art of Mad Max: Fury Road is the official companion to the highly anticipated movie.
About the Author
---
Author of Fantastic 4: The Making of the Movie, The Guild: The Official Companion, and The Cabin in the woods: Official Visual Companion. As well as also working on the Much Ado About Nothing: The Official Screenplay and Alien: The Archive books, Abbie writes regularly for magazines, including Assignment X, Fangoria, and Buzzy Mag.
Praise For…
---
 "every bit as eye-popping and gut-punching as the movie" - Cinema Sentries

"A gorgeous coffee table book rich with behinds the scenes details, concept art, and set photography from the biggest, most beautiful movie of the year" - Indiewire 

"The book has tons of imagery and insight about everything that went into creating this brilliant movie, from the Namibian desert sets to the concept art of The Citadel." - Outer Places 

"This knockout coffee-table book walks you through every step of its journey to the screen, from concept drawings to storyboards to behind-the-scenes photos, all of them downright stunning." - Flavorwire Gift Guide 

"Incredibly impressive." - Aint it Cool Gift Guide

"You can almost smell the dirt and gasoline as you flip these pages. This book will make the recipient feel shiny and chrome as they make their way towards Valhalla." - Joblo gift guide

"The Art of Mad Max: Fury Road is a lovely goddamn book." - VG Blogger 

"Each of these sections sheds a lot of weight on the subject, while providing amazing artwork and beautiful photography." -  Bricks of the Dead

"The Art of Mad Max: Fury Road is very informative, revealing a world of great depth and detail created by the crew, even for characters given little screen time." - Cinema Sentries

"A splendidly cohesive and superior companion book." - Pop Mythology

"Plenty of insights and information about practical and CGI effects sequences, and reading up on how or why a certain shooting tactic or artificial element was used adds another layer for fans to enjoy." - Midroad Movie

"A must read for any "Mad Max" fan!" - Media Mikes

"The crème de la crème of movie companion books." - Mad Max Universe

"A splendidly cohesive and superior companion book that will delight and impress you." - Pop Mythology

"What a l lovely book." - Birth. Movies. Death 

"So, if you have some cash and had to buy one film book this year, I suggest you pick this book up and it will make marvelous reference book on your library shelf." - Retrenders

"This isn't fan service or an easy cash grab, it's obvious a lot of work went into this fantastic book and any fan of the series or the best movie of 2015 should pick it up" - City of Films

"This great book gives you a glimpse as to how much work goes into creating that kind of movie magic and maintaining that level of commitment all the way to the Summer movie of 2015." - Roger Ebert.com

"The Art of Mad Max: Fury Road, however, is that rare book that, much like the film, fires on all cylinders." - Joblo

"Basically the holy grail of details for every crazy thing that Miller, artist/writer Brendan McCarthy, storyboard artists Peter Pound and Mark Sexton, and many more dreamed up in order to make Fury Road possible" - Movies.com 

"The Art of Mad Max: Fury Road is a masterpiece when it comes to art books" - Entertainment Buddha 

"Filled with production stills, concept art, and behind-the-scenes photos of George Miller's new Road Warrior saga." -  ICv2

"fascinating art book and companion guide to the film" ... "a wonderful gift for any fan of the new Mad Max movie."- Portland Book Review