Are You a Boy or Are You a Girl? (Hardcover)
PLEASE READ BEFORE PLACING AN ORDER:
-Please do not come to the store until you get a confirmation email that your order is complete and ready for pickup!
-Please place orders for pre-order titles separately. If your pre-order is placed with other titles, please note that we will add additional shipping fees.
-Women & Children First is not responsible for lost or stolen packages.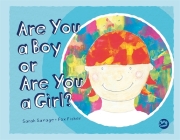 Description
---
'A lovely, sensitive, much-needed book that helps all children ask the big questions about identity and gender.' - Juno Dawson, author of This Book is Gay
Tiny loves costumes Tiny likes to dress up as an animal, or a doctor, or a butterfly. Tiny also prefers not to tell other children whether they are a boy or a girl. Tiny's friends don't mind, but when Tiny starts a new school their new friends can't help asking one question: Tiny, are you a boy or are you a girl? This brightly illustrated book will open a dialogue with children aged 3+ about gender diversity in a fun and creative way. Featuring a gender neutral protagonist, the book imparts an important message about identity and being who you want to be. Tiny's story will assist parents, family and teachers in giving children the space to express themselves fully, explore different identities and have fun at the same time.
About the Author
---
Sarah Savage is a campaigner for transgender rights and awareness, and the co-founder of the Trans Pride Brighton charity and weekend event. She has also featured in a documentary series called My Transsexual Summer, which has been syndicated worldwide. She is based in Brighton, UK. Fox Fisher is an illustrator, non-binary Trans campaigner, co-founder of Trans Pride Brighton and runs the My Genderation film project. Fox has an MA in Design and Illustration and met Sarah when they both starred in My Transsexual Summer (C4).