The Making of Aliens (Hardcover)
Before placing an order, please note:
You'll receive a confirmation email once your order is complete and ready for pickup.

If you have a membership, please make a note of this in the order comments and we'll apply your discount.

If you place a pre-order in the same order as currently available titles, an additional shipping fee will be added to your order.

Women & Children First is not responsible for lost or stolen packages.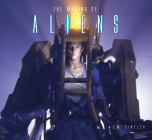 Description
---
Comprehensive and definitive volume telling the complete story of how Aliens was made, featuring new interviews with some of the cast and production crew, and including many rarely seen photos and illustrations from the Fox archives.




As one of the most highly regarded movie sequels of all time, Aliens quickly embedded itself in the minds of cinemagoers around the world when it was released in 1986. Driven by the singular vision of director James Cameron and guided by producer Gale Ann Hurd, its relentless action and unforgettable characters helped cement its place as an undisputed classic of 1980s cinema.

The Making of Aliens tells the complete story of how Cameron and Hurd, together with their immensely talented cast and crew, brought heroine Ellen Ripley back to the big screen--and upped the stakes by introducing a whole army of aliens for her to face. Interviews with the cast and crew, alongside revealing photography and fascinating concept art, illustrate the film's eventful journey from its beginnings as a sequel that nobody wanted to make through to its transformation into one of the highest-grossing blockbusters of the decade.
About the Author
---
J. W. Rinzler has authored New York Times bestseller The Making of Star Wars, London Times bestseller The Complete Making of Indiana Jones, and the #1 best-selling graphic novel The Star Wars. He was the executive editor at Lucasfilm for 15 years. His most recent works are The Making of Planet of the Apes and ALL UP, an epic historical-fiction novel on the first Space Age.
Praise For…
---
"Ultimately I cannot recommend this book enough" - This Week in Geek

"A definitive guide to the creation of a true modern classic" - SYFY

"Offers a fascinating look at one of our greatest films...[with] new insights into the production that cast a whole new light on specific scenes and characters" - ComingSoon.com

"The definitive look at the film" - Borg.com

"One the most comprehensive books you're going to find and read regarding the film... The Making of Aliens is an absolute must for Aliens fans the universe over" - Adventures in Poor Taste

"For fans of the franchise — or this film in particular — the book is an essential thing to have on one's coffee table" - Andrew Liptak's Reading List

"This isn't just a book about making a movie; it's a book about a filmmaker who refused to let any obstacle, no matter how big, prevent him from realizing his vision ... a book that belongs on every sf and adventure-film fan's shelf, to be pulled out and leafed through again and again." 
-Booklist Starred Review

"One of [Rinzler's] most involving books yet" - The Film Stage 

'A particularly good read, that sheds some interesting light on the sequel that's making me look at it in a different way than I had before' - Transfer Orbit