Her Keys to the City: Honouring the Women who made Dublin (Hardcover)
Before placing an order, please note:
You'll receive a confirmation email once your order is complete and ready for pickup.

If you have a membership, please make a note of this in the order comments and we'll apply your discount.

If you place a pre-order in the same order as currently available titles, an additional shipping fee will be added to your order.

Women & Children First is not responsible for lost or stolen packages.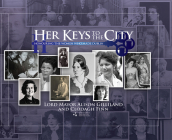 Description
---
Just four women were among the 83 people given the Freedom of the City of Dublin since the award was inaugurated in 1876 to June 2022. The genesis of this book lies in wanting, in some way, to address this very obvious gender imbalance and to showcase a variety of the very many accomplished women who lived before us. Collectively, these women were central to major social and political changes in our country's history, excelled across diverse disciplines and realised major achievements in many different fields. Each left us with an important legacy and were influential role models. You may be familiar with some of the names but others are not well known outside their immediate circle. You'll meet some very interesting women as you read through this book—a book that gives them all the keys of acknowledgement to our city.
About the Author
---
Alison Gilliland was elected the 353rd, and 10th female, Lord Mayor of Dublin on 28th June 2021. Originally from Ballybay, Co. Monaghan, she has called Dublin her home since 1995. She has a Bachelor in Education from Trinity College Dublin and a doctorate in Education and Research from the University of Nottingham. One of her priorities as Lord Mayor was the promotion of women and in particular to acknowledge the achievements of women who contributed so much to the city but were not recognised in their day. Clodagh Finn is a journalist and author of Through Her Eyes : a new history of Ireland in 21 women and A Time to Risk All (Gill Books), a biography of Mary Elmes, the 'Irish Oskar Schindler.' She is an Irish Examiner columnist who has worked as a sub-editor and feature writer for several newspapers, and as a freelance writer and editor in Paris. She has a degree in French and Archaeology from UCD and is particularly interested in writing about overlooked women from history.
Praise For…
---
"Her Keys to the City is ground breaking because it looks at the huge power of women in this city and in Ireland. For too long, the streets, buildings, public spaces and lauded people who took up pages in our history books were men. I'm terribly fond of men. But as the ancient Chinese saying goes – often wrongly attributed to Mao – 'women hold up half the sky'. We do, and the incredible women in this book certainly did. They have shaped our city/our country and it's wonderful to see these exceptional women finally being honoured in a book that does them justice. Perhaps other cities will take the cue from Dublin's Lord Mayor, Alison Gilliland, and shine a much needed light on all of the under-appreciated women who have contributed so much to Irish society." —Cathy Kelly, Author

"For too long, women's lives, stories and achievements have been forced into the shadows. This fascinating and highly readable book helps to shine a light, at long last, on the contributions made by the rest of the human race." —Margaret E. Ward, diversity campaigner and founder of Women on Air

"Like all great things, this book started as an idea: Lord Mayor Gilliland's mission to redress the gender imbalance in honouring Dublin's greatest citizens. Her Keys to the City wakes up these women and allows them, posthumously, to receive the recognition they richly deserve." —Sonya Lennon, entrepreneur and thought leader for workplace equality

"We are all here because of the women who came before us. If you find their stories, especially those unheard, tell them in whatever way you can. And if you can tell many of them at once, even better. This is a welcome publication about our foremothers." —Sinéad Guckian, the artist who painted republican Elizabeth O'Farrell back into the representation of the surrender at Easter 1916