Living with a Black Dog (Paperback)
Before placing an order, please note:
You'll receive a confirmation email once your order is complete and ready for pickup.

If you have a membership, please make a note of this in the order comments and we'll apply your discount.

If you place a pre-order in the same order as currently available titles, an additional shipping fee will be added to your order.

Women & Children First is not responsible for lost or stolen packages.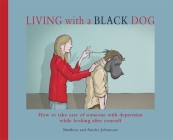 Description
---
As beautifully illustrated as it is touching, this second book from Matthew Johnstone, author of I Had a Black Dog, is written for those who care for those suffering from depression - friends, family members, colleagues, and even therapists.

Using wonderful illustrations and the image of Churchill's infamous 'black dog', Matthew and his wife Ainsley offer a moving, inspirational and often humorous portrait of life with depression - not only for those suffering from it themselves, but for those close to them.

Living with a Black Dog speaks directly to the carer and offers practical and sometimes tongue-in-cheek tips on helping the depression sufferer, such as 'Socks have little do with mental health. If people could just "snap out of it" they would.' and 'Encourage any form of regular exercise. Fitness robs the Dog of its power'.

Based on their own experiences, Matthew and his wife Ainsley treat the subject of depression sympathetically, hopefully and, most importantly, humorously.
About the Author
---
Matthew Johnstone (Author)
In a former life, Matthew Johnstone was a successful creative in advertising. He worked all around the world and won many coveted industry awards. He has since taken that skill of communicating simply and effectively into writing and illustrating books and public speaking. Matthew has published 9 books many of which have been bestsellers internationally. He gave a keynote to 87 representatives at the World Health Organisation of the power of imagery in understanding difficult to articulate subjects such as mental health, meditation, resilience and stress. Matthew's work has been endorsed by Stephen Fry, Edward de Bono, Google and the World Health Organisation. He is one of six, Australia wide, that have been nominated for the 2018 Australian Mental Health Awards for his outstanding work in the mental health and wellbeing space. His simple motto is 'Flicking Switches with Pictures'.


Praise For…
---
As a mental health nurse, I am always on the lookout for quality material to give to carers. This fits the bill—Nursing Standard, 4-star review

Comprehensive and very helpful ... brilliant—Guardian Weekend magazine, recommended by Dr. Tom Smith

Moving and thoughtfully written ... a must-have.—Daily Mirror

Excellent ... conveying the essence of caring for someone with depression, in a brief and concise form, what it might take more conventional textbooks 300 pages to say.—Mental Health Practice