Seattle Then and Now® (Hardcover)
Before placing an order, please note:
You'll receive a confirmation email once your order is complete and ready for pickup.

If you place a pre-order in the same order as currently available titles, an additional shipping fee will be added to your order.

Women & Children First is not responsible for lost or stolen packages.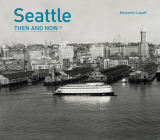 Description
---
Putting archive and contemporary photographs of the same landmark side-by-side, Seattle Then and Now® charts the city's spectacular rise from a small lumber town to a booming international business centerSeattle's growth from a small lumber town to one of the world's most influential urban centers has been spectacular. Little more than a century ago, the city was made up of dirt roads and timber buildings. The arrival of the Great Northern Railroad in 1893 and the start of the Klondike gold rush in 1897 changed all that. By 1914, just 25 years after the city suffered a devastating fire that burned the central business district to cinders, Seattle would have been almost unrecognizable to its early inhabitants. Streets had been raised, canals had been dug, and hills had been leveled, with the spoils going to create land out of the Elliott Bay mudflats. And the Smith Tower—the tallest building west of the Mississippi at the time—stood as a symbol of Seattle's new economic confidence. Businesses in Seattle are still booming today, but they are now less dependent on location and more on inspiration. One can see the city as it looked when Denny Hill still rose above downtown, when the University of Washington occupied a mere city block, when Duwamish canoes still put in at Ballast Island, and when missiles were based in Magnolia and naval aircraft at Sand Point. Sites include Hooverville Docks, Elliott Bay, Front Street, Westlake Boulevard, Boeing, Union Station, Ferry Kalakala, Smith Tower, Pioneer Square, Madison Street, Fremont Bridge, and the Rainier Brewery.
About the Author
---
Seattle native Benjamin Lukoff is the former music editor at Amazon.com, and is now a freelance writer and editor. In addition to his own history blog, his writing has appeared in the Pacific Northwest online newspaper Crosscut.com.