God's Big Story: The BIGGEST Story Ever. God Wants to Fix The Broken World and Be Our Friend. (Paperback)
Before placing an order, please note:
You'll receive a confirmation email once your order is complete and ready for pickup.

If you place a pre-order in the same order as currently available titles, an additional shipping fee will be added to your order.

Women & Children First is not responsible for lost or stolen packages.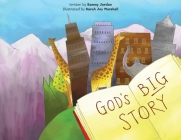 Description
---
So often children know stories from the Bible but don't understand the story of the Bible as a whole, the metanarrative. This book seeks to tell the big story of the Bible in an accessible and engaging way. For very young children the pictures have been designed to tell the story without words, older children can have it read to them or, from about the age of 6 or 7 should be able to read it for themselves.
Why is it important that children understand the big story of the Bible anyway? Often as children grow up, particularly if they are part of a church and/or have Christian parents, they will hear how much God loves them, that Jesus loves them; and that God loves the world. It's a great message and one I firmly believe in; but it creates a 'love bubble' which can easily burst when children start to become more aware of and engage with the world around them. A child who has grown up in this 'love bubble' might get to aged 6 or 7 and find that a pet dies, they begin to engage with news media for the first time and are surrounded by sadness; or perhaps a family member dies. Where is the God who loves them now? How could a God who loves them and is their friend let this happen? The love bubble bursts, and the risk is that children turn their back on God because they can't align what they have been taught with the world around them that they are beginning to understand.
I believe children need to grow up knowing that God loves them and wants to be their friend, but also that the world is broken and not how God wants it to be. Children need to be given a lens to help them make sense of what they see and understand from the world around them. Teaching children about brokenness at the same time as love avoids the love bubble and the consequences of it bursting.
God's Big Story also includes the idea of choices, the choices we make every day but also that being God's friend is a choice. Wrong choices caused the world to break but the essence of God giving choice is love. A God who wants to be our friend allows us to choose how to respond because He loves people. Children are invited to engage with the story, to make choices, on every page. At the end of the book children are invited to choose how they want to respond to what they have heard.
God's Big Story aims to tell the big story of the Bible so that children have a frame of reference to fit individual Bible stories into. It also makes the foundations of the Christian faith accessible to children and lays foundations for the future.