Celestial Yosemite (Hardcover)
Before placing an order, please note:
You'll receive a confirmation email once your order is complete and ready for pickup.

If you place a pre-order in the same order as currently available titles, an additional shipping fee will be added to your order.

Women & Children First is not responsible for lost or stolen packages.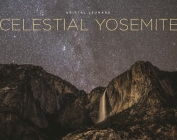 Description
---
This is a Yosemite awash in light delivered from the far reaches of space. This is a Yosemite rarely explored. This is Celestial Yosemite. This captivating collection of astrophotography records the otherworldly beauty of Yosemite at night. The Milky Way stretches above world-famous features that appear utterly transformed after dark. Yosemite Valley glows beneath moonlit cliffs. Star trails stripe the sky over a snow-capped Half Dome. A brilliant blue and pink storm electrifies the vista from Olmsted Point. Rock climbers' headlamps glimmer like fireflies on mighty El Capitan. Dark nights--crucial not only for stargazers, but also for many plants and animals--have become increasingly rare on this urbanizing planet. Yosemite remains a sanctuary for starry skies, a place where inky nights are unimpeded by the glow of cities or highways. The ethereal elegance of Kristal Leonard's work casts cosmic light onto the singular natural wonder that is Yosemite at night.

About the Author
---
Kristal Leonard is a visual artist specializing in landscape photography and astrophotography. She has worked extensively in Yosemite, California, her home for more than 17 years. Always fascinated with the night sky, she shares her photos of the night sky with a growing fanbase and collectors alike.