Hope Has a Baby: The Gift of Family (Paperback)
Before placing an order, please note:
You'll receive a confirmation email once your order is complete and ready for pickup.

If you have a membership, please make a note of this in the order comments and we'll apply your discount.

If you place a pre-order in the same order as currently available titles, an additional shipping fee will be added to your order.

Women & Children First is not responsible for lost or stolen packages.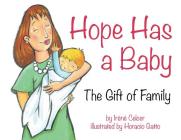 Unavailable from our sources
Description
---
Follow an inquisitive little boy who learns of his mom's quest to have children, and the joy she experiences while creating her family through sperm donation and pregnancy. Told in a language a child can understand, read the tale of how mom welcomes her child into a new family. Come and celebrate the unique gift parents can receive on their way to becoming a family.
This book is part of a larger collection of children's picture books that embodies the hope families have to overcome challenges that sometimes stand in the way of building a family, and their will to take the necessary steps to do so. These books highlight several distinctive ways to build a family, and provide a delightfully new and refreshing way to tell children about their unique beginnings.
Parents can share with their children the loving story of their conception, the goodness of all the people that were helpful along the way, and the joyous celebration of their arrival. It accents the caring way that they were planned, how much they were wanted, and the kindness of all involved in their creation, regardless of which reproductive option was ultimately realized.
Learn more at hopeandwill.com.
From the Author
Third party reproductive assistance is one of the many ways to build a family, although this pathway might not ordinarily be chosen by single women. However, to those working in the field of infertility and collaborative reproduction, it is apparent that children born through such assistance are among the most longed for and awaited. The grand efforts that individuals make to create families are acknowledged in this collection of books in an appropriate way for little ears to hear and little minds to learn about.
I would like to see mothers and their children use this book with pleasure and gusto. It is my ardent hope that it will allow them to feel the pride and joy they deserve to feel. Good luck and congratulations on becoming a family