You Can't Crack That Egg Twice: Sage Advice From A Real Texas Cowboy (Hardcover)
Before placing an order, please note:
You'll receive a confirmation email once your order is complete and ready for pickup.

If you have a membership, please make a note of this in the order comments and we'll apply your discount.

If you place a pre-order in the same order as currently available titles, an additional shipping fee will be added to your order.

Women & Children First is not responsible for lost or stolen packages.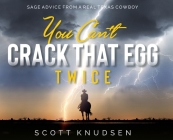 Description
---
From his compelling story, "You Can't Crack That Egg Twice," TV celebrity, Scott Knudsen takes you inside a world where fortitude and tenacity are king. Knudsen transports you on a highly personal trip through his compelling storytelling, illustrating the transformational power of accepting life's obstacles and delving into the depths of his own experiences. Unexpected setbacks are a part of life, and for Knudsen, his came in the form of a lightning bolt that permanently changed the trajectory of his life. He stood erect amidst the rubble, his wife at his side, and their young daughter in his arms, bound by the unbreakable ties of family. They agreed to face hardship head-on and refuse to let it define them in order to convert their tragedy into victory. In "You Can't Crack That Egg Twice," Knudsen tells the amazing tale of how their family brand, a representation of their tenacity, rose from the ashes. Their unflinching dedication to "Ride for the Brand" became a guiding philosophy, inscribed into every facet of their daily existence, and was rooted in the rich traditions of the cowboy way of life. The Lightning K Brand became a symbol of their unbreakable energy, appearing on everything from their front gate to their steadfast horses, trucks, and even their feisty cattle. However, this story covers more than just one family's success. Knudsen shows readers that there is hope in the face of difficulty by encouraging them to tackle their own life-altering circumstances in a way that is both vulnerable and inspirational. Through his stirring remarks, he demonstrates to us that even when life knocks us off our feet, we possess the potential to get back up, reinvent ourselves, and succeed once more. Get ready to be enthralled by "You Can't Crack That Egg Twice," a moving and inspiring story that serves as a reminder of the human spirit's resiliency. Your life will be changed forever by Scott Knudsen's brilliant narrative, which will motivate you to face your issues head-on and explore possibilities no matter how intimidating they may seem.