The Way to Win (Paperback)
Before placing an order, please note:
You'll receive a confirmation email once your order is complete and ready for pickup.

If you place a pre-order in the same order as currently available titles, an additional shipping fee will be added to your order.

Women & Children First is not responsible for lost or stolen packages.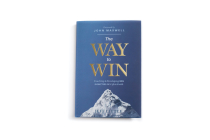 Description
---
When we find something valuable that helps us accomplish the things that matter most, we don't let go of it. Life is not a game. However, on multiple occasions, the Bible uses competitive sports metaphors to demonstrate the discipline and training necessary to grow and become everything God created you to be. The things we care about most -- our identity, our purpose, our relationships -- are far more important than a game. We have to learn to win in these areas. We understand development when it comes to sports, our careers, our hobbies, and even our personal lives. There are tangible goals we can shoot for. And yet, when it comes to our spiritual lives, it often feels more elusive. This book is not a fail-proof formula to avoid pain, challenges, or adversity. It's a journey to a deeper relationship with God. This is the reason you were created. This is winning in life. This is what you're going to care about when you come to the end of your life and wonder, "Did my life matter?" What if you could be developed in your professional career through a greater understanding of God's Word? What if you could learn to build a healthy culture both in your workplace and in your home? What if you could win in the areas of life that you care about the most?
About the Author
---
Jeff Little has been in ministry for more than 25 years. He planted Milestone Church in Keller, TX with a few friends in 2002. Milestone is now a family of thousands that continues to reach people and build lives throughout the Dallas/Fort Worth region. More than a passionate and dynamic communicator, Jeff is committed to developing people and training leaders to reach their God-given potential. He earned a Bachelor's in Religion from Baylor University, a Master's in Missiology from Southwestern Baptist Theological Seminary, and is currently pursuing doctoral studies at Southeastern University. He and his wife, Brandy, have four children and reside in Keller, TX.