On the Brink of Everything: Grace, Gravity, and Getting Old (MP3 CD)
COVID-19 Notification
*** Thank you for your overwhelming support! Please note: we are 48 hours behind processing online orders.
*** If you choose "In Store Pickup" as your delivery method, but you'd prefer to pick up your order via contactless curbside pickup, please type "CURBSIDE" in the comments box at checkout. Please note: curbside pickup is only available on Mondays and Thursdays from 1 to 5 p.m. and Saturdays from 10 a.m. to 2 p.m. If you do not specify "CURBSIDE" your order will be waiting for you behind the register inside the bookstore.
*** Women & Children First is not responsible for lost or stolen packages.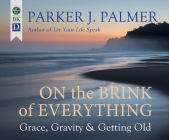 Description
---
From beloved and bestselling author Parker J. Palmer (Let Your Life Speak, The Courage to Teach, Healing the Heart of Democracy), comes a beautiful book of reflections on what we can learn as we move closer to "the brink of everything." Drawing on eight decades of life -- and his career as a writer, teacher, and activist -- Palmer explores the questions age raises and the promises it holds. "Old," he writes, "is just another word for nothing left to lose, a time to dive deep into life, not withdraw to the shallows." But this book is not for elders only. It was written to encourage adults of all ages to explore the way their lives are unfolding. It's not a how-to-do-it book on aging, but a set of meditations in prose and poetry that turn the prism on the meaning(s) of one's life, refracting new light at every turn. From beginning to end, the book is laced with humor as well as gravitas -- beautifully enhanced by three free downloadable songs from the gifted singer-songwriter Carrie Newcomer, written in response to themes in the book. Table of Contents Prelude I. The View from the Brink: What I Can See from Here II. Young & Old: The Dance of the Generations III. Getting Real: From Illusion to Reality IV. Work & Vocation: Writing a Life V. Keep Reaching Out: Staying Engaged with the World VI. Keep Reaching In: Staying Engaged with Your Soul VII. Over the Edge: Where We Go When We Die Postlude.