Looking for Lorraine: The Radiant and Radical Life of Lorraine Hansberry (MP3 CD)
Not all titles listed on our website are available in-store. You can call to confirm that a book you're looking for is available at our store by calling 773-769-9299.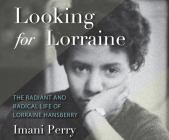 Description
---
A revealing portrait of one of the most gifted and charismatic, yet least understood, Black artists and intellectuals of the twentieth century. Lorraine Hansberry, who died at thirty-four, was by all accounts a force of nature. Although best-known for her work A Raisin in the Sun, her life was full of extraordinary experiences and achievements with an unflinching commitment to social justice. Though she married a man, she identified as lesbian and, risking censure and the prospect of being outed, joined one of the nation' 's first lesbian organizations. Hansberry associated with many activists, writers, and musicians, including Malcolm X, Langston Hughes, Duke Ellington, W.E.B. Du Bois, among others. While her close friends and contemporaries, like James Baldwin and Nina Simone, have been rightly celebrated, her story has been relegated to one work' until now. Looking for Lorraine is a powerful insight into Hansberry' 's exceptional life' a life that was tragically cut too short.