A Winter's Promise (Compact Disc)
Before placing an order, please note:
You'll receive a confirmation email once your order is complete and ready for pickup.

If you have a membership, please make a note of this in the order comments and we'll apply your discount.

If you place a pre-order in the same order as currently available titles, an additional shipping fee will be added to your order.

Women & Children First is not responsible for lost or stolen packages.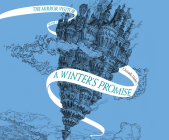 Description
---
Plain-spoken, headstrong Ophelia cares little about appearances. Her ability to read the past of objects is unmatched in all of Anima, and, what's more, she possesses the ability to travel through mirrors, a skill passed down to her from previous generations. Her idyllic life is disrupted, however, when she is promised in marriage to Thorn, a taciturn and influential member of a distant clan. She must leave all she knows behind and follow her fianc to Citaceleste, the capital of a cold, icy ark known as the Pole, where danger lurks around every corner and nobody can be trusted. There, in the presence of her inscrutable future husband, she slowly realizes that she is a pawn in a political game that will have far-reaching ramifications not only for her but for her entire world.