As Long as Grass Grows: The Indigenous Fight for Environmental Justice, from Colonization to Standing Rock (MP3 CD)
Before placing an order, please note:
You'll receive a confirmation email once your order is complete and ready for pickup.

If you place a pre-order in the same order as currently available titles, an additional shipping fee will be added to your order.

Women & Children First is not responsible for lost or stolen packages.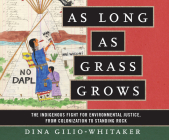 Description
---
Through the unique lens of "Indigenized environmental justice," Indigenous researcher and activist Dina Gilio-Whitaker explores the fraught history of treaty violations, struggles for food and water security, and protection of sacred sites, while highlighting the important leadership of Indigenous women in this centuries-long struggle. As Long as Grass Grows gives listeners an accessible history of Indigenous resistance to government and corporate incursions on their lands and offers new approaches to environmental justice activism and policy.