The Ungrateful Refugee: What Immigrants Never Tell You (MP3 CD)
Before placing an order, please note:
You'll receive a confirmation email once your order is complete and ready for pickup.

If you place a pre-order in the same order as currently available titles, an additional shipping fee will be added to your order.

Women & Children First is not responsible for lost or stolen packages.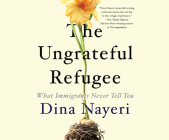 September 2019 Indie Next List
---
"At a time when some people aim to terrify us with stories about the intentions of those who seek our help, this book brings a timely voice to illustrate what drives people to endure monumental hardships in order to have a chance to reach safety. An engrossing and powerful book that reveals an infrequently heard perspective on the concept of charity, giving, and receiving, The Ungrateful Refugee makes us look at ourselves and our actions as well as those who receive our acts of 'kindness.'"
— Becky Garcia, Malvern Books, Austin, TX
Winter 2020 Reading Group Indie Next List
---
"Now more than ever, perhaps, we need voices like those of Dina Nayeri. Combining moving memoir with clear-eyed reporting, Nayeri's The Ungrateful Refugee is a beautiful and stark reminder of the complexity and humanity of the immigrant experience. It is urgent and important that we hear the stories of others, which often reveal even more about ourselves."
— Susan Hans O'Connor, Penguin Bookshop, Sewickley, PA
Description
---
What is it like to be a refugee? It is a question many of us do not give much thought to, and yet there are more than twenty-five million refugees in the world. Aged eight, Dina Nayeri fled Iran along with her mother and brother and lived in the crumbling shell of an Italian hotel-turned-refugee camp. Eventually, she was granted asylum in America. She settled in Oklahoma, then made her way to Princeton University. In this book, Nayeri weaves together her own vivid story with the stories of other refugees and asylum seekers in recent years, bringing us inside their daily lives and taking us through the different stages of their journeys, from escape to asylum to resettlement. In this book, a couple falls in love over the phone, women gather to prepare noodles that remind them of home, a closeted queer man tries to make his case truthfully as he seeks asylum, and a translator attempts to help new arrivals present their stories to officials. Nayeri confronts notions like "the swarm," and, on the other hand, "good" immigrants. She calls attention to the harmful way in which Western governments privilege certain dangers over others. With surprising and provocative questions, The Ungrateful Refugee challenges us to rethink how we talk about the refugee crisis.