Time Is the Thing a Body Moves Through (MP3 CD)
Coronavirus Alert
*** If you're ordering a book that has not yet released, please create a separate order for just that preorder. If we receive orders that contain both not-yet-published books and currently available books, your order will be delayed and $4 shipping will be automatically added.
We are currently about 24 hours behind processing online orders.
When placing an order, please note that USPS is experiencing significant delays due to the global pandemic. If you need your books promptly, we strongly recommend that you select priority mail as your shipping method. Women & Children First is not responsible for lost or stolen packages!
We so appreciate your overwhelming support! Please be kind and patient with our small staff during this challenging time. ***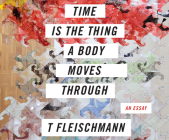 $22.99
Usually Ships in 1-5 Days
Description
---
How do the bodies we inhabit affect our relationship with art? How does art affect our relationship to our bodies? T Fleischmann uses Felix Gonz les-Torres's artwork--piles of candy, stacks of paper, puzzles--as a path through questions of love and loss, violence and rejuvenation, gender and sexuality. From the back porches of Buffalo to the galleries of New York and L.A. and the farmhouses of rural Tennessee, artwork acts as still points, sites for reflection situated in lived experience. Fleischmann combines serious engagement with warmth and clarity of prose, reveling in the experiences and pleasures of art and the body, identity, and community.