Time Is the Thing a Body Moves Through (MP3 CD)
Not all titles listed on our website are available in-store. You can call to confirm that a book you're looking for is available at our store by calling 773-769-9299.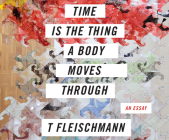 $22.99
Usually Ships in 1-5 Days
Description
---
How do the bodies we inhabit affect our relationship with art? How does art affect our relationship to our bodies? T Fleischmann uses Felix Gonz les-Torres's artwork--piles of candy, stacks of paper, puzzles--as a path through questions of love and loss, violence and rejuvenation, gender and sexuality. From the back porches of Buffalo to the galleries of New York and L.A. and the farmhouses of rural Tennessee, artwork acts as still points, sites for reflection situated in lived experience. Fleischmann combines serious engagement with warmth and clarity of prose, reveling in the experiences and pleasures of art and the body, identity, and community.