Pussy & Butt: English Edition: Premium Photo Mix (Hardcover)
Before placing an order, please note:
You'll receive a confirmation email once your order is complete and ready for pickup.

If you place a pre-order in the same order as currently available titles, an additional shipping fee will be added to your order.

Women & Children First is not responsible for lost or stolen packages.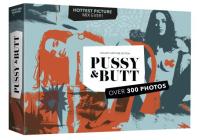 Description
---
A photo is usually looked at - seldom looked into, said Ansel Adams. Well, this exclusive photo project lets you take a long, hard look into it. Presented in a high quality horizontal book format, finished with a fetching slipcase, different photographers have taken 300 n: u: d: e pictures of the most sexy girls, and then inserted the respective front and rear view on each double page. The result? A beautiful e: r: o: t: i: c art collection, which shows the two most beautiful sides of women unabashed and uncensored: the p: u: s: s: y and the b: u: t: t. Oh, and if we are in the process of throwing quotes around, let us end with the wisdom of photographer Rinnhofer: A nude photo is good then, when the model shows it at the grandmother's birthday at the coffee table and those present find it good. Although we would definitely advise against it in t.