Flotante (Álbumes) (Hardcover)
Before placing an order, please note:
You'll receive a confirmation email once your order is complete and ready for pickup.

If you have a membership, please make a note of this in the order comments and we'll apply your discount.

If you place a pre-order in the same order as currently available titles, an additional shipping fee will be added to your order.

Women & Children First is not responsible for lost or stolen packages.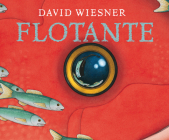 Description
---
Una ola deposita un cacharro viejo en los pies de un niño que curiosea en la playa. Se trata de una cámara submarina. Emocionado, el niño lleva a revelar el rollo que encuentra dentro. Las fotos son asombrosas: un pescado de cuerda y complicados engranajes; un pez globo que semeja un globo de aire navegando sobre el mar; extraterrestres miniatura que tratan de domar caballitos salvajes de mar y otras extrañas imágenes más. La última fotografía muestra a una muchacha, sosteniendo la foto de un muchacho. Como las imágenes se hacen más pequeñas, el protagonista las mira a través de su lupa, y luego su microscopio. La cadena de niños sigue atrás a través del tiempo, y termina con una imagen de sepia de un muchacho saludando en la playa, sin fotos en la mano, la primera foto de todas. Después fotografiarse él mismo sosteniendo la foto, el chico lanza la cámara de regreso al océano, donde ésta viaja hacia su siguiente dueño. Una obra sin palabra que dará mucho que decir.

A wave washes up an old object at the foot of a boy exploring on the beach. It's an underwater camera! Excited, the boy decides to develop the roll of film that's inside. The photos are incredible: a fish made from rope and complicated gears; a balloon fish that resembles a balloon on the sea; miniature aliens trying to tame wild seahorses; and other strange images. The last photo shows a girl holding a photo of a boy. As the images get smaller, the protagonist examines them through his magnifying glass, and then his microscope. The chain of boys goes back in time and ends with a sepia photo of a boy on the beach, waving, no photo in his hand since he's the first of them all. After photographing himself holding the photo, the boy throws the camera back into the ocean, where it will meet its next owner.
About the Author
---
David Wiesner is an American author of children's books. He is a three-time recipient of the Caldecott Medal. His books include Flotsam, Tuesday, and Mr. Wuffles.
Praise For…
---
"Wiesner offers another exceptional, wordless picture book that finds wild magic in quiet, everyday settings." —Booklist, ALA, Starred Review, on the English language edition

"New details swim into focus with every rereading of this immensely satisfying excursion." —Publishers Weekly, Starred, on the English language edition

"A mind-bending journey of imagination." —School Library Journal, Starred, on the English language edition

"In Wiesner's much-honored style, the paintings are cinematic, coolly restrained and deliberate...An invitation not to be resisted." —Kirkus Reviews, Starred, on the English language edition

"Wiesner's detailed watercolors make the absurd wonderfully believable . . . and child, on the English language edition will surely love 'Flotsam' from start to finish." —New York Times Book Review Notable Book, on the English language edition

"The meticulous and rich detail of Wiesner's watercolors makes the fantasy involving and convincing." —Horn Book, on the English language edition

"Wiesner continues to show children that things aren't always what they seem. Would the Caldecott committee consider a three-peat?" —Bookpage, on the English language edition

"Wiesner returns with his traditional wordless-narrative format for another fantastical outing." —Bulletin of the Center for Children's Books, on the English language edition