Art with Words: Peggy Macnamara & Julia Anderson-Miller
Join us for a unique event celebrating two Chicago illustrators, Peggy Macnamara and Julia Anderson-Miller. The evening will feature a slide show of the artists' work, refreshments,and musical accompaniment by accordion player Heather Riordan. Peggy is the
Field Museum's artist in residence and also an associate of the zoology department there. She also teaches scientific illustration and watercolor techniques at the School of the Art Institute. She has exhibited her work in museums and galleries throughout the United States and is the author of several books, including Painting Wildlife in Watercolor and Architecture by Birds and Insects. Julia Anderson-Miller studied drawing, painting, and art history at Moorhead State University and the University of Minnesota. She has illustrated several books in pen and ink, including Peculiar People the Story of My Life by Augustus Hare. Julia has had solo shows of her paintings in New York and Chicago where she currently works as a director of design services.
Event date:
Thursday, November 6, 2014 - 7:30pm

$19.95
Unavailable
ISBN: 9781888160772
Published: Ice Cube Press - June 1st, 2014
---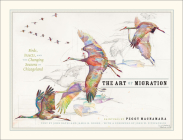 $30.00
Unavailable
ISBN: 9780226046297
Published: University of Chicago Press - July 1st, 2013
---